Welcome
Acupuncture and Chinese Medicine Clinic Gorey, was established in 2002 by Mairead Fahy and is currently located in The Palms Centre, Gorey, Co. Wexford.  We specialise in treating all aspects of Fertility, Menstrual problems, Insomnia, Migraine, Sports injuries and Pain of all kinds.
Mairead Fahy, R.G.N. Dip Ac and TCM,L Ac Nanjing (China)
Mairead has been working as an Acupuncturist and Chinese Medicine specialist since 2002 when she graduated from The Lansdowne College. Prior to this she was a Registered General nurse for 15 years specialising in Emergency medicine. In 2006 she travelled to China to work with Drs of Chinese Medicine in Nanjing University hospital, gaining her Licentiate in Acupuncture.
Mairead has done numerous post graduate studies to enhance her practice including travelling to Japan to explore the techniques of Japanese acupuncture which she employs in her practice now. In 2013 she became a fully qualified Chinese Medical Herbalist which enhances the treatment of chronic conditions and especially cases of sub fertility. She has done extensive study with the renowned Gynaecology and Fertility expert Dr Trevor Wing .
She has studied with the late Dr Richard Teh Fu Tan, whose methods of instantly relieving pain have revolutionised the practice of acupuncture worldwide. She also uses the techniques of Abdominal Acupuncture, sometimes called "the miracle treatment", which is another relatively new method of pain relief, but which is very effective in its gentleness.
Mairead believes in having an integrative approach to her practice which is totally person centred, believing that each individual is unique in presentation, and thus deserves individual treatment. She believes in continually updating skills and learning new techniques to enhance her practice and is a member of The Acupuncture Council of Ireland.
She is currently undergoing studies in Shamanic counselling practices.  All treatments are covered by major health insurance companies.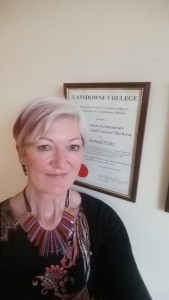 Latest Studies Undertaken